Left-leaning think tank named in honour of Jimmy Reid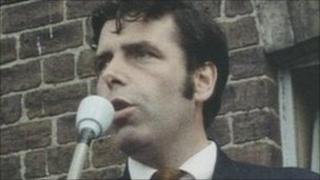 The first anniversary of the death of trade union leader Jimmy Reid has been marked with the launch of a new social policy institute which bears his name.
The Jimmy Reid Foundation is described as a major new left-of-centre think tank for Scotland.
It will promote left-leaning policies and feed new ideas to Holyrood.
Reid led the famous "work-in" of thousands of shipbuilders on the Clyde during 1971 and 1972, thwarting government attempts to close the yards.
He died last year, aged 78, after suffering a brain haemorrhage.
The Jimmy Reid Foundation was officially launched on Wednesday in Govan, where Reid was born and worked in the shipyards, by former First Minister Henry McLeish and entertainer and actor Elaine C Smith.
They were joined by Jimmy's daughter Julie Reid, and the foundation's convener, Bob Thomson, and director, Robin McAlpine.
The foundation is a think tank and advocacy group which will aim to set a left-wing agenda for politics in Scotland.
It intends produce policy ideas, publish research, carry out investigative work, lobby decision-makers and provide a point of contact for accessing left thinkers.
'Like-minded people'
Commenting on the launch, Mr McLeish said: "I welcome the creation of the foundation and look forward to being one of the founding patrons.
"The foundation will provide a new focus and rallying point for progressive politics in the 21st Century."
Ms Smith said: "I really hope that the Reid Foundation can bring together like-minded people in all the political parties so we can put a bit more emphasis on fighting together and a bit less on fighting each other."
Ms Reid added: "Dad was a socialist all his life and believed we should have more say in the economic, social and political decision making of our government than once every four years.
"Even after his death a year ago today he is still playing his part and the foundation will help make his hopes and aspirations a reality."