NHS Greater Glasgow apology after electro therapy error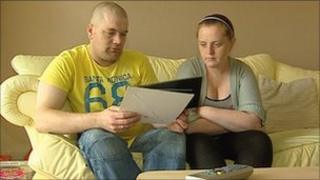 A woman who suffered severe memory loss after being given the wrong kind of electro convulsive therapy has received an apology from her local health board.
Leeanne Simpson, 33, had electric currents applied to both sides of her brain as part of her treatment for severe depression.
She told BBC Scotland she is now scared to be left alone with her own children in case she does something wrong.
NHS Greater Glasgow and Clyde has launched an inquiry.
In a statement it said the memory loss should be temporary. No members of staff have been suspended at this stage.
Ms Simpson, from Cambuslang, had been suffering from depression and had been receiving unilateral electro convulsive therapy which involved shocks being applied to one side of the brain.
Verbal apology
However, she attended a different hospital for treatment and was given bilateral therapy so received currents to both sides of the brain.
She said she did not know that was going to happen and it has had a severe impact.
"A couple of days later I opened the wardrobe and saw new clothes in it and freaked out because I didn't know where they had come from," she said.
"I went to the doctor panicking because I couldn't remember things.
"People were telling me things had happened, like taking the kids to the park and to the shops, but I couldn't remember them."
The 33-year-old said the memory loss means she now finds it hard to cope with looking after her children.
NHS Greater Glasgow and Clyde said the consultant had issued a verbal apology to Ms Simpson and a written apology would be issued following a review.
A spokeswoman said: "We are carrying out a full review to find out why this patient received a different mode of ECT treatment from that which was prescribed on one occasion to ensure that it does not happen again.
"We have apologised fully to the patient and have reassured her and her partner that we do not believe this will have any long-term side effects."
"A known and common side effect of this treatment can be short-term memory loss of specific events and this is always fully explained to all patients, and from our review it is clear that this information was given to the patient and her partner prior to treatment."
The health board said electro convulsive therapy was used routinely both nationally and internationally.