Dad jailed for stabbing stranger over son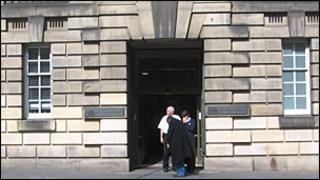 An "obsessed" father carried out a vicious knife attack after being told he could not say happy birthday to his young son.
Gerald Gilmour, 23, was jailed for eight years after smashing his way into a house in Paisley and stabbing a stranger.
He had denied attempting to murder Craig Higgins, 26, but a jury unanimously found him guilty.
Gilmour was also convicted of striking his ex-partner in the face with a door.
The High Court in Edinburgh heard that he recklessly forced the door in Ferguslie Walk so that it struck Louise Mellis in the face.
The court was told that violence flared on 9 October, the day after the fourth birthday of Gilmour's son.
'Obsessive fear'
When Gilmour appeared for sentencing solicitor advocate Maurice Smyth, defending, said he was working hard to put his past difficulties behind him - for his own sake and that of his son.
"The biggest concern in his life is his son, Leo, and his thinking is dominated by an obsessive fear of losing him," the lawyer told judge Lord Pentland.
"The appalling conduct your lordship heard about in evidence was undoubtedly precipitated by the sudden and unexpected withdrawal of access to his son on his birthday."
Mr Smyth said Gilmour's former partner had custody of Leo. She was seeing other men and had since had another child.
Mr Smyth said no criticism of Ms Mellis was intended, but Gilmour - already serving an 18-month sentence for an unconnected offence - was worried that someone else would take over his role as a father to Leo.
Jailing Gilmour, Lord Pentland told him: "You have been convicted by a jury after trial of an appalling attack with a weapon on a man who was a total stranger to you and had done you no harm whatsoever."
The judge ordered that the eight-year prison term should start at the end of Gilmour's present sentence.