Glasgow University study to tackle heart bypass failure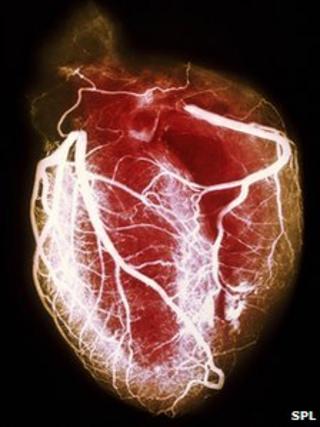 Scientists in Scotland have been given a £3.9m grant to develop a gene therapy which may prevent heart bypass failure.
During a coronary artery bypass, a vein from the leg - the saphenous vein - is used to boost blood flow to the heart.
This can fail, however, when new cells grow in the vein eventually causing it to narrow and block.
The team from Glasgow University and Golden Jubilee National Hospital aim to prevent new cell growth by using a modified virus.
There are more than 28,000 coronary artery bypass graft operations performed each year in the UK.
Therapeutic gene
The majority use saphenous veins but around 10% of such grafts become blocked within a year, and more than a third are blocked within 10 years.
Under the technique being developed, the modified virus will be delivered into the saphenous vein in the operating theatre before it is implanted into the heart.
The virus is modified so it is unable to replicate, but instead expresses a specific therapeutic gene called TIMP-3 that inhibits undesired tissue growth.
This gene has been shown to significantly reduce the formation of blockages in human saphenous veins in laboratory tests.
It has also been demonstrated to be an effective gene therapy following bypass procedures.
The grant award was made by the Medical Research Council and British Heart Foundation to a team at the university's Institute of Cardiovascular and Medical Sciences, led by Professor Andrew Baker.
Prof Baker said: "Given the heavy reliance on saphenous vein grafts for coronary artery bypass procedures, and bypass grafts becoming blocked in the long term, there is an obvious and urgent need to find a solution to this problem.
"This study will enable us to test the safety and efficacy of this new treatment and provide the data to support future studies in larger numbers of patients."
The five-year clinical trial will be carried out in the Golden Jubilee National Hospital, Clydebank, which is home to regional and national heart and lung services.