Life-saving charity Glasgow Humane Society in cash plea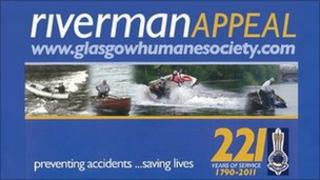 One of Scotland's oldest charities has launched a fundraising appeal to continue more than 200 years of life-saving work on the River Clyde.
The Glasgow Humane Society needs £100,000 to renew its equipment and buy a new patrol boat and support vehicle.
Its "Riverman Appeal" has been launched on the society's 221st birthday.
Over the last 10 years the organisation is believed to have saved the lives of 201 people and prevented a further 611 from drowning on Glasgow's waterways.
The Glasgow Humane Society was set up in 1790 with a £200 legacy from local merchant James Coulter for the "prevention of accidents, rescue and recovery" of people on the Clyde and the city's waterways.
'Life-saving work'
Since then, the society's officers, known as "the Riverman", and lifeguard volunteers, have saved thousands of lives.
Society chairman John Park said: "This is our first-ever appeal to raise money. We need the £100,000 for much-needed new equipment so we can continue in the years ahead our life-saving work, search and recovery on the River Clyde.
'Now in its third century, the Glasgow Humane Society has still a big role to play in making the city's river and waterways safer and prevent water accidents.
"We are an ever-present voluntary resource to the statutory emergency services and always on hand for the hundreds of sports and boat users on the Clyde each week and the many thousands who use the waterway walkways."
The society works in partnership with Glasgow City Council and neighbouring authorities, Strathclyde Police, Strathclyde Fire and Rescue Service and the Scottish Ambulance Service.
Glasgow's Lord Provost Bob Winter said the society was a "well-loved" organisation "to which thousands owe their lives".
He said: "We owe a big debt of gratitude to the society's officers and the volunteer lifeguards who patrol the River Clyde and our city's waterways seven days a week to make them safer for all of us.
"Over the last 10 years the society has saved the lives of 201 people and prevented a further 611 from drowning.
"So it is with a great sense of pride and purpose that we launch the Riverman Appeal today on the Society's 221st birthday."