Carol Craig stabbed her mother Frances 60 times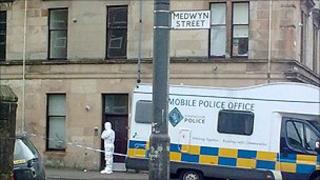 A woman with mental health problems has admitted killing her mother by stabbing her 60 times during a frenzied assault.
Carol Craig, 33, attacked Frances Craig at her mother's flat in Medwyn Street, Whiteinch, Glasgow, in March.
She was charged with murder, but at the High Court in Glasgow admitted to a charge of culpable homicide on the grounds of diminished responsibility.
Craig was ordered to remain at a hospital in Glasgow pending a court appearance in Edinburgh in November.
The court heard how the accused had gone with her 18-month old son to her mother's home at about midnight on 6 March.
Red staining
Laura Thomson, prosecuting, said Craig had earlier been in contact with her uncle and was "sobbing, distressed and not talking sense".
About 06:00 the next morning, Craig was seen walking in nearby Dumbarton Road with her child and young nephew.
Miss Thomson added: "A large area of red staining was apparent on the backs of the legs of her pyjama bottoms."
The body of Mrs Craig - who was separated from her husband John - was discovered in her flat later that day.
Mrs Craig was found to have suffered multiple stab wounds to the head, neck, body and limbs. One had penetrated her jugular vein.
Craig was later interviewed by police and told them: "My sisters - well, I done it for them. They made me do it - not that they would tell you that."
Miss Thomson said Craig had told her lawyers that her mother had been aggressive to her on the evening of the attack and hit her with an ashtray.
She added a combination of Craig's mental illness and shock lead to her initially losing memory of what occurred and that she had since "filled in" gaps to form a version of events that she believed was true.
Miss Thomson went on: "Her 'recollection' therefore is an inaccurate version of events.
"Accordingly, it is not know what, if anything, triggered the accused's actions on 7 March."
Psychotic episode
The court heard Craig had a lengthy history of mental health issues stretching back to 1994 when her grandmother died.
She suffered a psychotic episode in 2005 after suffering from malaria.
Her father had to fly out with a psychiatric nurse to Gambia to bring her back to the UK.
Craig was in and out of hospital for several years and was latterly in the care of a community mental health team in the city's west end.
She was also diagnosed as suffering from schizo affective disorder in August 2010.
Judge Lord Tyre imposed an interim compulsion order on Craig for her to remain at the Rowanbank Clinic in Glasgow's Stobhill Hospital.
She will next appear at the High Court in Edinburgh in November.