Ian Taylor cleared of hammer murder after retrial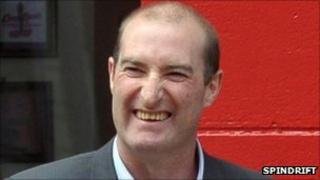 A man who was jailed for life for murdering a mentally ill man in a hammer attack has walked free from court after a retrial.
Ian Taylor, 38, and co-accused Tracey Hastie, 41, were ordered to serve a minimum of 18 years for killing Brian Sharp, 38, in Glasgow in 2006.
Taylor's conviction was quashed in April after appeal judges ruled the trial judge misdirected the jury.
Following a retrial, the case against him was found not proven.
During their trial, the High Court and Glasgow heard that Taylor and Hastie met at an addiction rehabilitation centre in the city.
Double conviction
In October 2006, the pair had been drinking with Mr Sharp at his home in the city's Milton area when they turned on him, the jury was told.
The court heard that they taped their victim to a chair, beat him with a hammer at least 80 times, and then stabbed him in the chest with a fork.
Both denied the murder, claiming the other had carried out the attack.
A jury convicted them both and trial judge Lord Brailsford ordered them to serve a minimum of 18 years before being eligible for parole.
Taylor's legal team lodged an appeal on the grounds that the jury was misdirected by the judge.
They said that during the trial a number of witnesses gave evidence about statements made by Taylor's co-accused, Hastie, in their presence.
When Lord Brailsford came to direct the jury, he omitted to give any direction as to the use that could be made of the hearsay evidence.
Taylor's defence team successfully argued that he failed to tell the jury that this evidence could not be used to prove the case against their client.
After his conviction was quashed, Taylor faced a retrial.
He admitted being in the house when Mr Sharp was killed but claimed he was asleep during the attack.
Hastie, who was listed as a Crown witnesses, refused to give any evidence.
Victim beaten
She made a brief appearance in the witness box and declined to say anything other than to state her name and age.
Her police statement, in which she claimed that it was Taylor who had tied up Mr Sharp and beaten him 80 times with a hammer and a fork, was read to the jury.
In it she claimed Taylor had used the hammer to knock a fork into Mr Sharp's body "like a vampire".
However, a pathologist told the court that Mr Sharp's skin was unbroken and there were no marks like those which would have been made by the prongs of a fork.
After deliberating for 90 minutes, the jury found the case against Taylor not proven.
Judge Lord Bracadale told Taylor: "The jury has found the charge against you not proven. You are discharged from the dock and free to go."