Paul Harrigan and Russell McCulley admit flat killing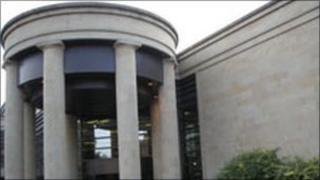 Two men have admitted forcing their way into a flat in Renfrewshire and beating another man to death.
Paul Harrigan, 37, and 35-year-old Russell McCulley attacked Raymond Crichton, 32, at the property in Paisley in February this year.
They faced a murder allegation but admitted the reduced charge of culpable homicide at the High Court in Glasgow.
Harrigan and McCulley now each face a lengthy jail-term for the killing when they return to the dock next month.
The court heard how Mr Crichton and his girlfriend Pauline Wright had been at the flat with others on 16 February.
Victim motionless
Miss Wright was on her laptop computer when they heard the door being forced open.
Harrigan and McCulley ran towards Mr Crichton and he was kicked to the ground causing the victim to strike his head on the floor.
Shanti Maguire, prosecuting, said Mr Crichton was then punched as he lay motionless.
He was dragged into another room before the assault continued.
The court was told Miss Wright was then attacked by McCulley's 32 year-old sister, Janelle, and Jillian McFadyen, 34, who had joined Harrigan and McCulley. The women also stole her laptop.
Three of the accused were still at the flat when police attended.
Miss McGuire told the court: "Miss Wright was afraid to say what had gone on. The three accused left after their details were noted."
Brain injury
Mr Crichton, from Johnstone, Renfrewshire, was rushed to hospital having suffered an injury to his brain.
Miss Wright meantime eventually told police what had happened earlier leading to all four accused being detained.
The victim - who also developed pneumonia - never awoke from a coma and died at Paisley's Royal Alexandria Hospital on 28 February.
Lord Tyre remanded Harrigan, from Port Glasgow, Inverclyde, and McCulley, from Paisley, in custody.
McFadyen and McCulley, both from Paisley, admitted assaulting Miss Wright and had their bail continued.
The four are due to be sentenced at the High Court in Edinburgh next month.