Rally in memory of knife death man George Mathieson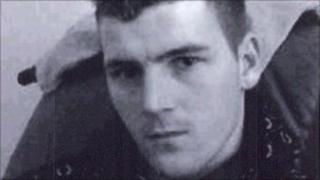 An anti-knife crime march in memory of a man who was murdered yards from his home has taken place.
About 70 people attended the event in Cambuslang, South Lanarkshire, which was organised by the family of George Mathieson.
The 22-year-old's mother Michelle said she wanted to see tougher sentences for people carrying knives.
In June Darren Smith, 20, was jailed for 19 years after being convicted of the murder.
Following the trial it emerged Smith had four previous convictions for knife offences, and was on early release from prison at the time of the murder.
Smith was also convicted of assaulting his Mr Mathieson's brother, Mark, and of attempting to pervert the course of justice by washing the knife.
The court had heard how Smith shouted at the Mathieson brothers and produced a knife during a confrontation, stabbing George and slashing Mark in the face.
Ahead of the rally, Mrs Mathieson said: "If he [Smith] had served his whole sentence George would still be alive.
"George was my eldest son and my best friend, we're all lost without him.
"It's not fair that people who go around carrying knives should get time off their sentences for pleading guilty or for good behaviour when they're in prison.
"People have got to realise they have to stop carrying knives. No-one else should have to suffer like we have."
Labour MSP for Rutherglen, James Kelly, assisted Mrs Mathieson in organising the march.
He said: "This march is to commemorate the memory of George Mathieson, but also to send out a strong message to communities throughout Scotland that knife crime is unacceptable.
"By ensuring people who are caught carrying knives are faced with prison sentences we'll ensure that less people choose to carry knives and that there are less tragedies like this one."