C. diff cases close Lockhart Hospital in Lanark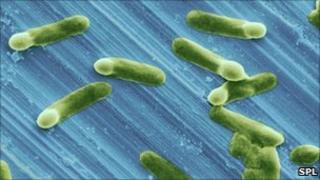 A hospital in South Lanarkshire has been closed to new admissions following an outbreak of C. difficile.
Seven patients at the 30-bed Lockhart Hospital in Lanark have tested positive for the infection since June.
NHS Lanarkshire said it had stepped up hygiene procedures and taken rapid action to reinforce infection control systems within the hospital.
The facility, which provides medical, rehabilitation and terminal care, has stopped admitting further patients.
Dr Chris Mackintosh, associate medical director of primary care at NHS Lanarkshire, said: "Our monitoring procedures have allowed us to identify these cases early and take rapid action to reinforce our infection control systems within the hospital.
"This has included enhanced cleaning, hand hygiene and prescribing measures.
"We have also sought guidance from Health Protection Scotland to ensure we are taking all appropriate measures."
The health board said it would review the situation next week.