Angels rescue Scot left jobless by London riots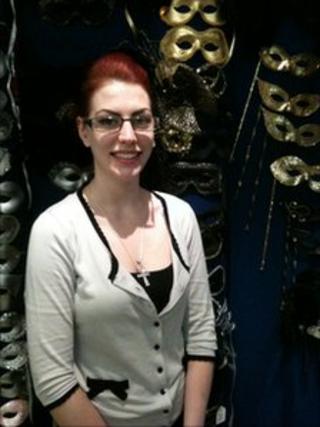 A Scottish costume designer who lost her job after the fancy dress shop she worked in was torched during the London riots has been given a dream role.
Kate Quate, from Cumbernauld, had been working at Party Superstores in Clapham junction after moving to the city to a pursue a career in theatre costume.
But the shop was among those targeted by rioters earlier this month.
Now Angels, the UK's largest costume house, has come to her rescue and offered her a new job.
The 22-year-old told BBC Scotland it was a "dream come true."
Kate, who had only been working in the fancy dress shop for a couple of months prior to the riots, said she watched television pictures of the store going up in flames.
She said: "I was so shocked that people could actually do something like that."
Celebrity clients
Her story was featured in a local London newspaper as one of the countless victims of the riots, left jobless after the shop burned down.
The article caught the attention of Tim Angel, chairman of Angels, the UK's largest and longest-established fancy dress and professional costume hire company.
The firm has provided costumes for films including Star Wars, Titanic and Alice in Wonderland, is a favourite with celebrity clients including Elton John, Hugh Grant and Jonathan Ross.
Mr Angel, told BBC Scotland: "My daughter-in-law cut out the article and showed it to me and I read it and wanted to do something.
"We had a fire at our shop about 20 years ago and at the time our competitors offered to help us out so I know what it feels like to be in that position."
He added: "Kate's story really got to me because during the riots you had all these kids out looting and doing what they were doing, but here was someone who had come down to London to get a job doing what she loved and through no fault of her own was suddenly out on her ear."
Mr Angel managed to get in touch with Kate and asked her to come in for an interview.
"I think she was pretty shell-shocked when I rang her up. I'm kind of seen as the 'Mr Big' of costumes.
"It just so happened that we had a couple of vacancies in our fancy dress store and she was someone who knows what she is doing."
Kate, who had studied theatre costume design at Telford College in Edinburgh, said she was "completely dumbstruck" when she got the call.
"My tutors at college had talked about Angels as being the best costume designers in the world, so I was totally overwhelmed."
The 22-year-old started her new jobs in Angels fancy dress store earlier this week. She hopes to eventually be trained up and work as a designer for the company.
Mr Angel added: "I am just really glad that something good could come out of the riots.
"Kate has a real chance to go on to a proper career in TV and film costumes."