BBC switches Waterloo Road production to Scotland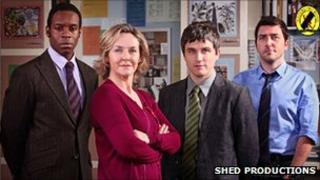 Production of BBC One's school drama series Waterloo Road is to be moved to Scotland - bringing up to 230 jobs.
The £25m investment will see 50 one-hour episodes filmed over two years from April 2012.
Made by Shed Productions, and starring Amanda Burton and Robson Green, the drama is currently filming its seventh series in Rochdale, Greater Manchester.
The relocation is part of the BBC's efforts to increase network programming from Scotland.
On screen, the relocation will be played out in a "dramatic and explosive storyline" at the end of the seventh series.
Independent school
This will see some of the current teachers and pupils at the troubled Rochdale comprehensive set up an independent school in Scotland.
It is not yet known which stars of the award-winning series will be written into the move.
Glasgow-based Shed plans to base production of the series in the city and is working to identify filming locations around the west of Scotland.
The firm's chief executive, Eileen Gallagher, said: "The inspiration for Waterloo Road came from its creator, Ann McManus, who spent several years teaching in Glasgow secondary schools.
"It now seems fitting that Waterloo Road has come full circle to be made in Scotland.
"But the essence of the show will remain the same - a drama about the highly topical issue of how families and schools help children reach adulthood."
Controller of BBC drama commissioning Ben Stephenson said the new Waterloo Road would remain popular with audiences.
"Whilst sad to leave Rochdale, they (Shed) immediately saw the potential of the new stories they could tell, as well as being excited about putting down roots in their native Scotland.
"I am sure fans will love what Shed have planned - it will remain the show our audience love."
'Significant announcement'
Mr Stephenson added: "I would like to pay tribute to Rochdale and the local community who have taken the hit series to their hearts over the past seven years and saw it triumph at this year's National TV Awards to win most popular drama."
News of the relocation was described by Scottish Culture Secretary Fiona Hyslop as "a significant announcement" for the media industry in Scotland.
"Having a major returning drama series here, made by an independent producer, will be a huge boost to Scotland's broadcasting sector and to our creative industries as a whole," she said.
"Not only will it lead directly to more jobs in Scotland, it also represents a massive vote of confidence in the capacity and skills base of the Scottish television production sector.
"I am sure that the move will be a success, and that it will help to attract, develop and retain talent within Scotland."
Shed is being assisted in the relocation by economic development agencies Scottish Enterprise and Scottish Development International.
Linda McPherson, creative industries director at Scottish Enterprise, said the arrival of Waterloo Road "could prove to be a real game-changer for the industry in Scotland".
She added: "Aside from the direct employment resulting from this announcement, we cannot underestimate the knock-on effects this will have for the economy and the tremendous credibility boost for Scotland's creative industries."
BBC Scotland's head of programmes and services, Donalda MacKinnon, said the production switch was "excellent news" for the corporation and creative sector north of the border.
"It is another milestone in the development of BBC Scotland as a significant and sustainable centre of distinctive drama production and is a welcome addition to our portfolio of programming for the network," she said.