Lasting benefits of Waterloo Road relocation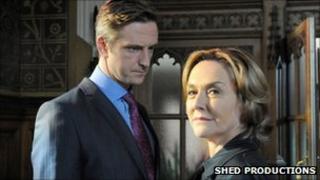 News that the school drama Waterloo Road is to be relocated to Scotland may have surprised fans of the series.
If the move works out, however, it could provide an important shot in the arm to the television industry north of the border.
In recent years the BBC has been making fewer network programmes in London and more in the rest of the UK.
Glasgow, Cardiff and the north west of England have all benefited from wave of production relocations.
BBC Scotland took responsibility for The Weakest Link and will soon be in command of Question Time.
BBC Wales revived Doctor Who, while Casualty is about to be relocated to Cardiff.
Lasting boost
In 2010-11, BBC Scotland was responsible for 611 hours of network programmes - up from 243 hours two years ago.
But gaining Waterloo Road - a network drama with the potential to run indefinitely - could provide a lasting boost to Scotland's creative industries.
It inevitably means more work here for people in a number of disciplines connected with television production. About 230 jobs are likely to be created or supported.
Although BBC Scotland has historically been responsible for a wide range of drama, it has never been responsible for a network drama of this scale before.
BBC Scotland's greatest impact in drama usually came through one-off productions like the fondly-remembered Tutti Frutti and programmes which ran successfully for a few series with a limited number of episodes - like the Robert Carlyle drama Hamish Macbeth and Monarch of the Glen.
It continues to produce or commission dramas in this mould, including a new series based on the young life of the vet James Herriot.
Soaps and "returnable dramas" are a key foundation for maintaining a healthy television production base as they can provide regular and reliable work - for actors, directors and technical staff.
Although BBC Scotland's own soap River City has run continuously for 10 years, it has never been screened south of the border.
For years STV managed to help sustain a craft base through its soap Take the High Road and the police drama Taggart which both began in the early 80s.
High Road is long gone and the future of Taggart remains unclear as the ITV network has decided not to commission any new episodes.
The trick for BBC Scotland and Waterloo Road's producers Shed will be to maintain the programme's popularity to ensure it continues for years to come.
Another challenge is to ensure the boost it will give the industry becomes a bedrock for further success, including a greater number of original productions.