Orphaned seal pups 'fall in love' after charity rescue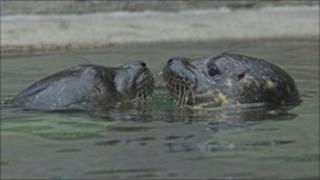 Two orphaned seal pups are to be released together after forming an unusually close bond while being cared for by an animal charity.
Three-month-old pups Jellyfish and Sand were rescued by the Scottish SPCA in Oban in June after they became parted from their mothers.
Since being cared for at the charity's Wildlife Rescue and Rehoming Centre in Fife, they have become inseparable.
Centre manager Colin Seddon said the pups even slept side by side.
"This is an extremely rare display even for a male and female pair," he said.
'Touching noses'
"Generally they tolerate one another but I have never seen two as close as this in 30 years of dealing with seals.
"They're always touching noses and sniffing each other and they're like a pair of synchronised swimmers.
"These two can't seem to bear being apart and even sleep side by side. They've certainly captured the hearts of everyone here."
Mr Seddon said Jellyfish and Sand would be released as soon as they were ready to fend for themselves.
He said there was "every chance" they would stay together.
The charity advise anyone who is concerned that a seal pup is injured or orphaned to call its animal helpline.
Pups cannot survive on their own in the wild as they cannot feed themselves.