Tests on Motherwell homes 'rule out' toxic land link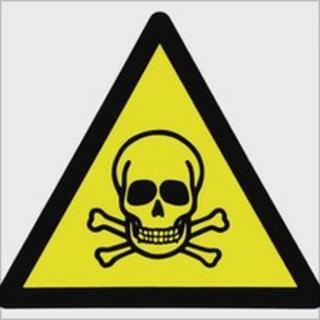 A third batch of tests at an estate where residents fear their homes where built on toxic land has found no evidence of a risk to human health.
North Lanarkshire Council said findings for the Watling Street estate in Motherwell had been "professionally and independently reviewed".
Lawyers acting for residents, however, say their own tests confirm there is a significant risk to health.
Collins Solicitors said "further legal proceedings" would now be considered.
The estate at the centre of the issue was previously occupied by factories and industrial plants.
Since new housing was built in the 1990s some local people have blamed their illnesses on possible contaminated land.
Chlorinated compounds
Last year, the council said it had found traces of trichloroethylene, or TCE, - a potentially harmful chemical - in open ground close to homes in Forum Place, Romulus Court, Empire Way and Tiber Avenue.
In a letter to residents, the authority said the levels found presented "no immediate risk" to householders.
Collins Solicitors later said tests it commissioned found the presence of potentially harmful chemicals which "far exceed stipulated safe levels".
It said analysis of air samples, taken from 20 properties in and around Forum Place revealed a significant number of chlorinated compounds and petroleum products (in particular Toluene) in the properties' indoor air.
In May, the council published the results of a second batch of tests which found there was "no evidence to date to suggest significant health risks" on an estate.
The study recommended further investigations be conducted as a "precaution".
Collins Solicitors also commissioned a second batch of tests which it said showed there were health risks to clients on the estate.
North Lanarkshire Council has now published the results of a third batch of tests which it said "confirms there is no evidence, in terms of Part IIA of the Environmental Protection Act 1990, of significant possibility of significant harm from the land on the site, either from open space areas or in residents' gardens".
'Independently endorsed'
The authority said the works had been carried out by independent contractors and "professionally and independently reviewed and endorsed".
Andrew McPherson, the council's environmental health manager, said: "They [the results] should provide residents with assurance that the ground is safe."
He said that the council had also considered claims from Collins Solicitors "that indoor air testing conducted on their behalf shows levels of airborne contaminants in four homes".
Mr McPherson added: "The report on which those claims are based has been reviewed by the council's consultants, and a number of concerns have been raised, both on the methodology used and the conclusions reached.
"We have raised these concerns in writing to both the company that undertook the testing and Collins Solicitors.
"We will now continue to maintain a dialogue with Collins Solicitors, both to answer their questions about our reporting and to try to obtain from them the further information we need properly to investigate the claims they are making."
Des Collins, senior partner at Collins Solicitors, said he was "disappointed by the council's findings, but not greatly surprised".
He said: "Given North Lanarkshire Council's intransigence and that it effectively now considers this matter to be closed, the number of residents who are experiencing illness at this site and the large number of concerns that we have in relation to all three stages of drilling and testing, we cannot accept these findings.
"There are compounds in the air in the properties which should not be there and they are often at unacceptable levels. They have the potential to be extremely harmful and it is North Lanarkshire Council's responsibility to get to the bottom of this.
"If they will not take this responsibility seriously, we will have no choice but to consider further legal proceedings."