'Couldn't be bothered' PC Michele Selby jailed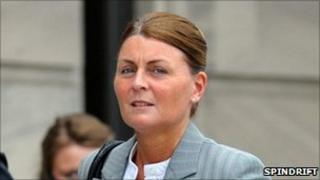 A Strathclyde Police officer who "could not be bothered" to arrest a suspected robber has been jailed for 12 months.
Constable Michele Selby confiscated tools from a man who claimed to be fixing the door of a restaurant in Kirkintilloch at 0530 BST last July.
Glasgow Sheriff Court heard she let him go as she had to deliver letters to another police station.
Selby, 38, resigned from the force after being convicted of attempting to pervert the course of justice.
At a hearing last month, the court heard from Strathclyde Police constable Michelle Maley, 23, who was on duty with Selby on the morning of 26 July last year.
Background check
PC Maley said she brought her colleague's attention to the man at the door of the Chinese restaurant and they went to speak with him.
The officer said she spotted a red-handled screwdriver, crowbar and wrench and that the man looked as though he was trying to break into the restaurant.
She said Selby, who is from Cumbernauld, North Lanarkshire, took his details and did a background check then spoke to him again.
PC Maley said: "She told him, 'We know you are trying to break in and if we didn't have another call to go to you would be getting the jail'."
The court heard that Selby confiscated the tools before putting them in a bin once she got back to the police station.
PC Maley said that when they entered the police car after confronting the man, Selby said he "would have got the jail if she could be bothered".
The court heard the young officer then asked Selby what the job was they were going to and was told it was delivering mail.
PC Maley told the court she did not feel confident enough to challenge Selby's decision to let the man go or to bin the tools, but later flagged it up.
In her evidence, Selby claimed she did not see a crowbar or wrench at the door of the restaurant, only screwdrivers, a hammer and a box of nails.
'Wasn't evil'
She told the court: "I didn't believe a crime had been committed."
Questioned by her defence lawyer, she added: "I made a mistake, it wasn't intentional, it wasn't wilful, it wasn't evil.
"I didn't start my shift and say I'm going to defeat the ends of justice today."
The court heard that the suspected robber had six previous convictions, including one for a similar offence.
Jailing Selby, Sheriff Richard Clark told her: "I recognise that the effect of this conviction is catastrophic for you.
"I also recognise that prior to the commission you were held in high regard in society.
"Nevertheless, having regard to the factors I am satisfied that a custodial sentence is the only appropriate disposal in this case."