Pedro Noche jailed after appeal over crash sentence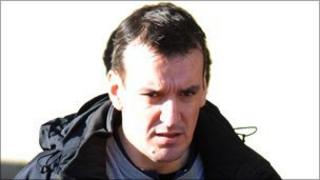 A driver given 300 hours community service after killing a pensioner as he drove on the wrong side of the road has been jailed by appeal judges.
Pedro Noche admitted causing 80-year-old Margaret McIlroy's death by dangerous driving on the A714 at Pinwherry, South Ayrshire, in May 2010.
The Crown had challenged his original sentence as "unduly lenient".
Three judges at the Court of Criminal Appeal in Edinburgh agreed and sent him to prison for a year.
Lord Mackay, sitting with Lady Smith and Lord Wheatley, said they were satisfied that the sentencing judge who dealt with Noche had erred.
He said: "We are satisfied only a sentence of imprisonment is appropriate in this case."
Spaniard Noche had earlier admitted causing Mrs McIlroy's death and injuring other occupants of the car she was in.
Temporary judge Rita Rae QC had told Noche that prison was almost inevitable in such cases, but there were exceptional circumstances.
After sitting through the appeal proceedings Mrs McIlroy's daughter, Sandra Coyle, said: "I am glad that what happened today happened.
"I felt the sentence the last time sent the wrong message. Hopefully the drivers and firms will look at what's happened.
"We weren't out to get a pound of flesh. Basically we felt the message was wrong. It did not reflect the gravity of what happened."
On the day of the crash, Mrs McIlroy had been returning from a caravan break with her daughter, son-in-law, grandson and a nine-year-old boy.
They were travelling in a Citroen Xsara being driven by Mrs McIlroy's son-in-law James Coyle.
As they came round a tight bend on the A714 at Pinwherry, Noche was driving towards them on the wrong side of the road in his work's pick-up truck.
Mr Coyle tried to steer away but collided head-on with the Mitsubishi.
Aggravating feature
Advocate depute Alex Prentice QC told the appeal judges that the dangerous driving on the part of Noche had not been momentary, but had occurred over a distance of up to half a mile.
Mr Prentice said the sentencing judge had failed to take into account an aggravating feature of the offence when the other occupants of the car suffered significant injuries.
Defence counsel Brian McConnachie QC said Noche had already completed almost half of the unpaid work required of him.
Lord Mackay said: "In considering any case of this nature we recognise the very serious consequences for the relatives of the deceased. We also recognise that members of the family who were in the car also suffered injuries of some gravity.
"Equally we recognise that cases of this nature bring stress for the accused. Not infrequently the accused is a person who has no previous criminal record and is in regular employment."
The appeal judges will give full reasons in writing for their decision later this year.