Gary Finnigan jailed for brutal murder of Karen Hughes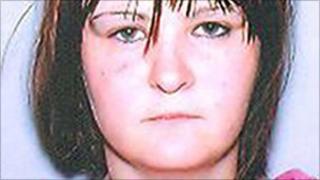 A man who admitted stabbing a young woman 18 times and leaving her to die has been jailed for more than 18 years.
Gary Finnigan, 35, met up with Karen Hughes at a friend's house in Airdrie in November 2010 before they went to a wooded area known locally as The Moss.
The High Court in Glasgow heard how Finnigan then brutally murdered the 24-year-old, inflicting several fatal stab wounds to her neck.
Father-of-four Finnigan was given a mandatory life sentence.
The court heard how Ms Hughes, who lived with her father in Coatbridge was known locally as Penny Crayon.
Party confession
She met up with Finnigan, from Airdrie, at a friend's house in the town on 20 November last year before leaving with him and two other women at about 17:00.
The court was told that Finnegan murdered Ms Hughes while they were alone in The Moss.
Afterwards he went home and changed his clothes before going to a neighbour's house where he drank cans of lager.
Finnegan was said to be agitated and later said that he had murdered someone.
The court heard that the people at the party did not believe Finnigan, who had been drinking heavily for several days.
Finnigan also confessed to his father, saying: "I killed that lassie in Whinhall.
"I stabbed her on her side of the neck and stabbed her eyes, she was gurgling. I think I stabbed her windpipe."
Ms Hughes' body was found at 19.45 the next day by a man who was on his way to the train station.
Minimum sentence
He noticed what he thought was a black bin bag and then realised it was the body of a female whose face and hair were covered in blood.
Jailing Finnigan, judge Lord Doherty told him: "You have been convicted of murder. There is only one sentence I can impose - that of life imprisonment."
Finnigan will have to serve at least 18 years and three months before he can apply for parole.
Lord Doherty said that if it had not been for Finnigan's guilty plea he would have jailed him for 19 years.