Scots pupils invited to name wild Argyll beavers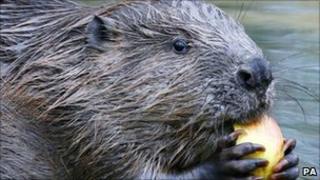 Children are being invited to name the first beaver kits to be born as part of an attempt to reintroduce the animals to the wild in Knapdale in Argyll.
A total of 15 animals were released in May 2009 after being captured in Norway for the project.
Children wanting to suggest a name for their offspring can apply online to gtinker@swt.org.uk.
The winning names will be announced by the Scottish Beaver Trial, which runs the Knapdale project, later this year.
'Charismatic creatures'
The competition was launched by Environment Minister Stewart Stevenson during a visit to Knapdale Forest on Tuesday.
"These charismatic creatures play a key role in providing good habitat for a range of wetland species, while generating interest in Knapdale and Scotland from far afield," he said.
"It is great news that this landmark trial has proven successful in breeding its first kits last year, following the reintroduction of beaver family groups to Knapdale in 2009.
"We hope this breeding will continue and invite name suggestions from young people to welcome the kits."