Glasgow University students end Hetherington sit-in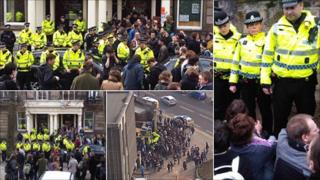 A seven-month Glasgow University sit in, held in response to proposed cuts to courses, has been brought to an end.
Protesters occupied the Hetherington building on 1 February over university plans to save £20m by 2014.
They re-occupied the building in March after being evicted in a stand-off, which saw dozens of police on campus.
The group said it had since gained "significant concessions". The Hetherington will now become a social facility for postgraduate students.
In a statement the protest group said: "Occupiers recently agreed to leave after winning significant concessions from university management, including no further course cuts, no compulsory redundancies and the opening of a new postgraduate club at the university."
'Peaceful conclusion'
A university spokeswoman said: "We are pleased that the students who have been occupying the Hetherington building for over six months have decided to bring the occupation to a peaceful conclusion, and are now leaving. This will allow the university to redevelop the space for academic use.
"The university has always respected the right of students to peaceful protest and we also recognise the depth of feeling there has been on campus about recent cost reductions.
"A new social facility for post graduate students will open in the main building in session 2011/12 and the university will continue to consult with students and their representatives, on future facilities and amenities for the student body."