'Couldn't be bothered' PC Michele Selby released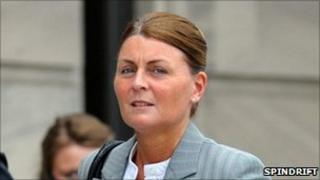 A Strathclyde Police officer who "could not be bothered" to arrest a suspected robber has been freed by a judge six days into a 12-month sentence.
PC Michele Selby, 38, was jailed after being convicted of attempting to pervert the course of justice.
It followed her failure to arrest a man who claimed to be fixing a restaurant door in Kirkintilloch at 0530 BST.
A judge at the High Court in Edinburgh released Selby pending the outcome of an appeal against her sentence.
Selby resigned from the force after being convicted last month at Glasgow Sheriff Court.
During the hearing, the court heard how Selby was charged after a colleague reported her for failing to arrest the suspect.
Background check
The court was told that Selby, from Cumbernauld, North Lanarkshire, took the man's details and did a background check before confiscating his tools.
She also told him she was aware he was trying to break in and "would be getting the jail" if the officers did not have another call to go to.
Selby later told a colleague, PC Michelle Maley, 23, that he would have been sent to prison if she "could be bothered".
She also binned the tools she had confiscated back at the police station.
In her evidence, Selby told the court she did not believe a crime had been committed but acknowledged that she "made a mistake".
She said: "It wasn't intentional, it wasn't wilful, it wasn't evil. I didn't start my shift and say 'I'm going to defeat the ends of justice today'."
Last week Selby was jailed for 12 months, but she has now been freed after spending six days in Cornton Vale Prison.
At the High Court in Edinburgh, her defence QC Paul McBride persuaded judge Lord Woolman that Selby should be released pending the outcome of an appeal against her sentence.
Mr McBride said Selby would not be contesting her conviction.