Task force sets plan to blitz Glasgow's booze culture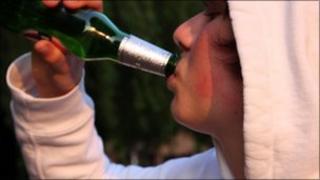 Plain clothes police officers are to be deployed on Glasgow's transport network to cut alcohol-related disorder.
The initiative is part of a raft of measures announced by a multi-agency task force to tackle the anti-social fallout from Glasgow's "booze culture".
Others include a dedicated police task force for enforcement operations, child protection referrals to social work and a new multi-agency intelligence group.
The council and police-led Joint Action Group on Alcohol developed the plans.
It was established in June to look at ways of tackling underage drinking, binge drinking, problematic drinking and noisy or anti-social parties.
Tenancy warnings
The group said discussions were also taking place on a new community payback scheme as an alternative to prosecution for alcohol-related offences.
More use will also be made of tenancy warnings. This will see parents warned about their secure tenancies being threatened where their children are causing problems.
Glasgow City Council leader Gordon Matheson said: "People who cause booze-fuelled misery in our communities must change their ways and they must be made to pay for their actions.
"Ordinary, decent people, including the vast majority of the licensed trade, are fed up with the misery caused by booze and we're standing up for them.
"People need to take responsibility for their actions, whether it's parents who have no idea what their children are up to at night, or shopkeepers who sell alcohol to kids, or the people who come into Glasgow at the weekend and make a fool of themselves after binge drinking.
"They've all got a month to change their ways, and then we are cracking down."
From 1 October, a number of other new approaches will be used to tackle alcohol-related disorder in Glasgow.
A "chill out hour" will be introduced from 03:00 to 04:00 to reduce problems arising from the number of people leaving pubs and clubs at the same time.
Selected venues will be allowed to stay open the extra hour, where they will play calming music and sell food and soft drinks.
It is hoped this will allow people to become re-hydrated and reduce queues at food outlets and taxi stands.
Test purchasing
An "SOS Bus" will provide first aid, temporary shelter for people who have consumed too much alcohol and act as a point of reference for anyone who is lost.
There will be a marked increase in test purchase operations at city off sales and pubs and clubs.
This will see underage people attempt to buy alcohol to catch traders who are acting illegally.
Police will also target people running illegal "dial-a-booze" services on social media and crack down on problematic bus and train routes where underage drinking is common at the weekends.
Chief Constable Stephen House said: "When we sat down to begin our work two months ago, we said that we wanted to find measures that were practical, enforceable and would make a real difference to people in our communities. I believe that we have done just that.
"I have no doubt that the key to lasting change is for all parts of the city to work together to identify problems and to then work together to tackle them.
"The multi agency group that we have established will allow us to gather every available bit of intelligence on the people who are causing misery so that we can take swift action against them."