Jenkins has Jeannie Smith murder verdict overturned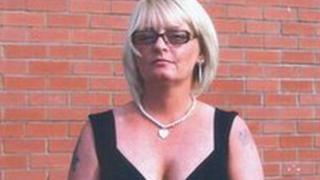 A man who was jailed for a minimum of 20 years for stabbing a mother-of-four to death outside her North Lanarkshire home has had his conviction overturned.
John Jenkins, 31, was found guilty of murdering 41-year-old Jeannie Smith during a massive street brawl in Airdrie in October 2009.
Appeal judges ruled there were "severe question marks" over the reliability of a witness who identified him in court.
Jenkins is still serving an eight year sentence for mobbing and rioting.
He was convicted following a three-week trial at the High Court in Glasgow in September last year.
Drunken remark
The Court of Criminal Appeal in Edinburgh heard that Mrs Smith died following the brawl in Oronsay Road, Airdrie, on 31 October 2009.
The trouble was said to have started after an insulting remark by a drunken youth.
Mrs Smith had left her home there because she was worried about her younger son, Stephen.
She was followed back into her garden by three people, one of whom lunged forward and appeared to punch her.
Mrs Smith collapsed telling her husband: "John, I have been stabbed."
She was taken to Monklands General Hospital but died later that day.
One of the witnesses at Jenkins' trial was Mrs Smith's other son, Kevin Asken, who was in the street at the time of the disturbance.
The trial at the High Court in Glasgow heard how he and other members of his family went to Airdrie Sheriff Court on 16 December 2009 in connection with another matter.
As they sat in the back of the court, Jenkins was brought into the dock in handcuffs.
Mr Asken later told police he was 100% sure that Jenkins was the man who had stabbed his mother.
But, the appeal court heard, Mr Asken had also attended two identity parades before the Sheriff court sighting.
On one occasion he picked out a stand in and on the second occasion he failed to identify anyone.
Dock identification
Earlier, Mr Asken had also picked out another potential suspect, pictured on social networking site Bebo.
Lord Clarke, sitting with Lords Brodie and Osborne, were also told that although Jenkins had not been charged with the murder by December, his name was "the talk of the place" and he was known to members of the Smith family.
During the murder trial last year, Mr Asken pointed out Jenkins in the dock as the murderer and, later, a jury found him guilty.
At the Court of Criminal Appeal in Edinburgh, defence QC Maggie Scott, successfully argued that Jenkins had been the victim of a miscarriage of justice - claiming that the dock identification was unreliable, given the two previous failures to spot the accused at controlled identity parades.
The appeal judges agreed, saying that other evidence in the case "simply could not, in our view, overcome the severe question marks placed over Mr Asken's reliability."
Lord Clarke continued: "This is one of those cases, however rare, where the jury's conclusion on reliability simply cannot be supported."