Fourteen stairlifts replace lift at Paisley tower block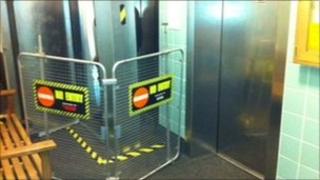 Residents of a 15-storey tower block in Paisley have raised concerns over council plans to replace a broken lift with 14 stairlifts.
The stairlifts are being installed at Rowan Court to ferry residents on odd floors to the even floors where the lift is working.
Renfrewshire Council said it is a temporary measure, while repair work is carried out.
But elderly people who live there are worried about safety and the cost.
The multi-storey block has two lifts serving the odd and even numbered floors of the building.
However, when the odd floor one broke last month and cannot be fixed until November.
In the meantime Renfrewshire Council has decided to fit 14 stairlifts, at a cost of £15,000.
Residents said it is a waste of money and they have called on the council to install a new lift as soon as possible.
A Renfrewshire Council spokeswoman said: "One of the lifts is out of use as it requires a major part which will take a number of weeks to be delivered.
"We are having chair lifts temporarily installed to assist tenants who otherwise would not be able to get out of their flats."
The spokeswoman said that the lifts had been due to be refurbished and that stairlifts would have been installed as standard practice while that work was going on.
She added: "We will now bring forward the refurbishment to be carried out at the same time as this major repair.
"We are keeping the tenants up to date with as much information as possible."