Thousands complete Great Scottish Run in Glasgow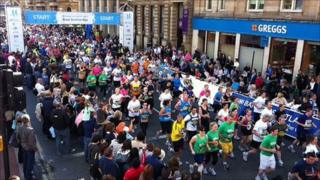 A total of 22,542 runners have taken part in the annual Great Scottish Run in Glasgow.
Scot Luke Traynor won the 10k in 31 minutes and 41 seconds. Kenyan Joseph Birech completed the half marathon in just over one hour and one minute.
Double Olympic Gold winning decathlete Daley Thompson started the events with Glasgow's Lord Provost Bob Winter.
Nell McAndrew was one of the celebrities to run and an estimated £1.5m has been raised for charity.
Retired athlete Jason Gardener MBE, who won gold at the 2004 Olympics in the 4x100m relay, also took part in the event.
The junior 3k and 1.5k races took place on Saturday at Glasgow Green.
Organisers say it is the third year in a row that over 20,000 people have participated.
"Year on year it continues to generate a real buzz around the city and this year was no different as thousands of people of all ages and abilities rose to the challenge," said Glasgow councillor George Redmond.
"It has it all - a field of elite athletes, an unrivalled route and a party atmosphere. It is a race like no other."