Unison members strike over planned Quarriers pay cuts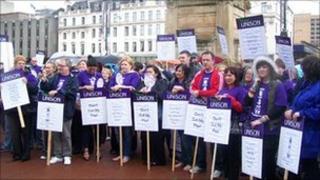 Hundreds of staff at the social care charity Quarriers are staging a 24-hour strike over plans to cut their pay.
The Glasgow-based charity is planning changes to the terms and conditions of its 2,000 staff, including cuts to sick and maternity pay and making all future pay increases discretionary.
Quarriers said the proposals were vital to protect jobs and services.
The union Unison, whose members are staging the walkout, said Quarriers had left staff with no other option.
Unison - which represents more than 700 Quarriers staff - said the charity's plans would see more than 560 staff have their pay cut by 10% while others would lose up to 23%.
The union called on the charity, which provides support for adults with disabilities, children and families, troubled teenagers and people with epilepsy, to take the dispute to the arbitration service Acas.
'Devastating' effect
Unison regional organiser Simon Macfarlane said: "No-one wants to be taking strike action but Quarriers have left us with no option.
"The proposed cuts to pay and conditions will be absolutely devastating on staff, and in the longer term will impact on the service Quarriers provide to vulnerable adults and children.
"If you are sick with worry and losing your home it is hard to totally focus on the care you are giving."
Stephen Brown, branch secretary of Unison Quarriers, added: "Taking strike action isn't a decision we've taken lightly and we want to be back at work doing what we do best - providing vital services to some of the most vulnerable people in society.
"The cost of utilities, food and transport are all going up and yet Quarriers expect our staff to take a pay cut of up to 23% in some cases."
Quarriers chief executive Paul Moore said: "We maintained essential services to ensure the impact of Unison's actions was minimised on the vulnerable people we support.
"We are disappointed what we estimate to be 100 Unison members - 5% of our 2,000 staff - chose to take this action given we are seeking to prevent job losses.
"These are tough economic times affecting everyone in the public, private and voluntary sector. We have accepted the economic reality of the situation and opted for a course of action that will avoid immediate redundancies.
"We agreed to Acas's invitation to further talks with Unison. However, Unison refuses to see the economic reality facing the sector and has put forward a proposal that would immediately lead to almost 200 redundancies.
"We simply could not accept a proposal resulting in job losses."
Quarriers was founded in 1871 by William Quarrier in Bridge of Weir, near Glasgow.
The organisation has an annual turnover of £40m.