Glasgow Caledonian Uni sets £21,000 for UK student fees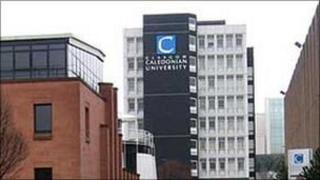 Glasgow Caledonian University (GCU) has set tuition fees for students from England, Wales and Northern Ireland at a maximum of £21,000.
The university will charge £7,000 per year for non-Scottish students from the rest of the UK and on four-year degrees it will provide a year at no cost.
The institution said the fees reflected the "high value" of its programmes.
The National Union of Students said the university had "shown restraint" in setting its fees.
Earlier this week, Edinburgh University announced fees of £36,000 for rest of UK (RUK) residents taking a four-year degree.
Most honours degrees at Scottish universities are taken over four years, a year longer than the standard course in England.
Some Scottish universities are encouraging students with "suitable A levels" to enter in the second year of courses.
Aberdeen and Heriot-Watt universities, who have also announced their intended fees, said they would charge £9,000 a year.
But they intended to cap the fees at a maximum of £27,000 for courses, even if a student was at the university for four years.
The new fees take effect from 2012/13.
GCU said its "generous scholarship and bursary scheme means that students from low income families will pay no more than £12,000 for an honours degree".
There is also a bursary of £1,000 on offer for students who exceed entry level requirements and scholarships to cover tuition fees in full for "talented students from low income backgrounds who are first in their families to go to university".
Principal and vice-chancellor professor Pamela Gillies said: "At Glasgow Caledonian University, we are committed to providing an educational opportunity for talented students whatever their circumstances."
'Better news'
Students who are resident in Scotland do not pay tuition fees at Scottish universities while universities in England are expected to charge annual fees of up to £9,000 from next year.
NUS Scotland president Robin Parker said: "This is some welcome better news in terms of the fees being charged to students from England, Wales and Northern Ireland.
"We are against tuition fees, and so an increase is not exactly good news, but Glasgow Caledonian University has shown restraint, and we should absolutely recognise that.
"I hope that Glasgow Caledonian's move can show that not all Scottish universities are cashing in on their students and that not all university principals believe the risk of students from England, Wales and Northern Ireland no longer coming to study in Scotland, is a risk worth taking."
The president of GCU's student association said the institution had "taken the correct approach" by not setting fees at "ridiculous levels we have seen elsewhere".