Rangers agree to pay £35,000 bill to Levy and McRae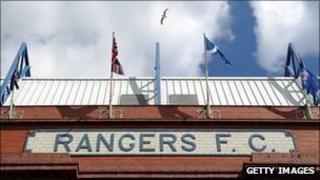 Rangers Football Club have agreed to pay an outstanding £35,000 legal bill plus interest after the issue reached court.
The club owed the money to the Glasgow law firm Levy & McRae over advice on how to deal with a Uefa charge relating to fans singing sectarian songs.
The Court of Session in Edinburgh heard the cash had now been paid. It also heard the law firm had "real concern about solvency" in relation to Rangers.
The dispute follows action against the club last week by HMRC over unpaid tax.
A statement from Rangers said the remarks about the club's solvency were "unfounded and unwarranted" scaremongering.
The club added that it had given assurances payment was on its way and the action had been unnecessary.
A brief court hearing over the unpaid £35,000 bill to Levy and McRae was held at the Court of Session last week.
Sectarian singing
The law firm said Rangers owed them for legal advice given over Uefa charges, and subsequent sanctions, relating to sectarian singing at Europa League games against Dutch team PSV Eindhoven.
Judge Lord Hodge was told that Rangers' new owner, Craig Whyte, wanted to check the details as the claim dated back to when Sir David Murray controlled the club.
Lord Hodge then gave both sides one week to settle the dispute before appearing in court again.
Jonathan Brown, counsel for Levy and McRae, told the court that agreement had now been reached.
He said that after last week's hearing there had been discussions between the two sides which, by Wednesday, had led to an undertaking to pay up, with interest.
"Bank account details were asked for and given," he added.
However, Mr Brown said the money had not appeared and there was no explanation for that.
Any fault, he suggested, lay with London-based solicitor Gary Withey who is Rangers' company secretary.
Legal costs
Mr Brown said: "There then followed a frantic out-of-hours series of events... with the benefit of the delay here today, for which parties are grateful, funds were telegraphically transferred this morning."
As well as interest on the £35,000, Rangers will also have to pay a fee of £100 and the costs of the court action, which is still to be decided but believed to be about £5,000.
Lord Hodge commented that it was unusual for a judge to be so involved in over-seeing an agreement and Mr Brown told him: "There is a real concern about solvency."
Gavin MacCall, counsel for Rangers, confirmed that agreement had been reached.
The two sides may be back in court in about two months, to make sure there are no outstanding issues.
A statement issued by the club said: "The remarks in the Court of Session today made by McRae & Levy with regard to their concerns about the club's solvency are unfounded and unwarranted and these are nothing more than scaremongering tactics.
"The club is extremely disappointed and angry that this action was taken when there were categorical assurances from the club's lawyers that the money was on its way and it is regrettable that those assurances were not deemed sufficient."
Last week, HMRC took action to have a seven-figure sum ringfenced in Rangers' bank account relating to a £2.8m tax bill.
The sum will remain unavailable to the club until the matter is resolved.
Rangers is believed to be disputing a £1.4m late payment penalty attached to this.