Sharkey fire murders: Police release CCTV images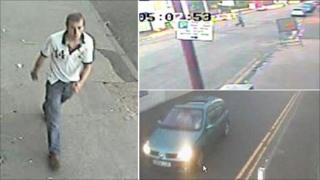 Police investigating a triple murder in a house fire in Helensburgh have released CCTV images of two people and a car they want to trace.
Thomas Sharkey, 21, and his eight-year-old sister Bridget died following the blaze on 24 July. Their father Thomas, 55, died six days later.
The CCTV images released show two people and a car whose occupants may be "potential key witnesses".
The only survivor of the blaze was 46-year-old Angela Sharkey.
The fire at the Sharkey family home in Helensburgh's Scott Court broke out at about 05:00 on 24 July.
Thomas Sharkey Jnr died in the blaze, while his sister Bridget died later in hospital. Mr Sharkey was seriously injured and later died in hospital.
His wife, Angela, was released from hospital two weeks ago after being treated for serious injuries.
Police and family members have made several appeals for information, but so far no-one has been arrested over the murders.
Detectives have now released CCTV images which they hope could lead to potential witnesses being identified.
The first person police want to trace was wearing a grey or blue top and dark trousers or jeans.
The person was seen walking north in John Street away from the direction of the waterfront crossing at West Princes Street, Helensburgh, at about 05:00 on 24 July.
The second person is described as a white male, in his 20s and of slim to medium build, with short brown hair.
He was wearing a white t-shirt, blue jeans and brown shoes and was seen walking in West Clyde Street a few minutes before the fire was discovered.
Police are also keen to trace the occupants of a light-blue Renault Clio that was seen in both John Street and West Clyde Street a short time after the fire was discovered.
Det Supt Peter McPike, the officer in charge of the investigation, said: "I believe that both the people who are seen walking in the area and the occupants of the Renault Clio are key witnesses and could have information that is vital to this investigation.
"I would urge them, or anyone who recognises them, to come forward to police as a matter of urgency and assist us in this ongoing triple murder investigation."