Robert Henderson guilty of murdering Hugh Boyd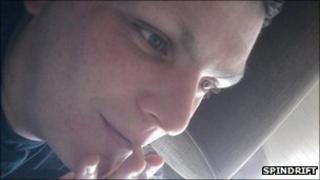 A 27-year-old man has been convicted of murdering his former landlord whose decomposed body was found a year later at his home in Glasgow.
Robert Henderson is thought to have strangled or suffocated Hugh Boyd, 57, at his Yorkhill flat in October 2009.
Henderson then hid the corpse, which was found in October 2010, before going on a spending spree with Mr Boyd's bank card and post office account.
He faces a mandatory life sentence when he is sentenced later this month.
The High Court in Glasgow heard how Henderson had been a lodger at Mr Boyd's flat.
'Shouting help'
An upstairs neighbour recalled how in October 2009 she heard unusual bangs and furniture being moved about.
Carol Ann Akceviz said: "It was as if the house was getting wrecked. I heard Mr Boyd shouting: 'Help, help'.
"Then it was fading as if someone was trying to stop him shouting help. I opened my front door and could hear a sound like dishes or broken glasses.
"I had not heard anything like that from the house before."
The badly decomposed body of Mr Boyd - who had long been estranged from his family - was not discovered until 1 October last year when housing association staff asked for his door to be broken down.
Pathologist Dr Julie McAdam - who was called to the scene - said: "My initial observation was that it was extremely odd to have a body with a sofa on top.
"The body had a duvet around it and it was partly secured by cable ties around the head. There was also some kind of fabric belt tied around the ankles."
Dr McAdam said possible causes of death could be suffocation or strangulation, but there were no signs due to the level of decomposition.
'Closes friend'
Henderson, from Dalmuir, West Dunbartonshire, was later interviewed by police and claimed he was "devastated" at Mr Boyd's death.
He said Mr Boyd was "an uncle-type figure" and his "closest friend".
He also claimed the last time he had seen Mr Boyd was July 2009, but had later tried to contact him to no avail.
Police later discovered that regular withdrawals had been made from Mr Boyd's post office account after he died.
One of these took place at a post office close to Henderson's home.
A top-up for a mobile phone traced to the killer was also purchased a minute later.
The dead man's bank card was also used in various shops across Glasgow.
Henderson was caught when his DNA was found at the murder scene.