Glasgow and Edinburgh host 'biggest' Scots bike ride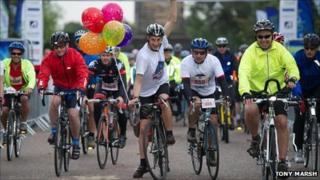 Cycling events in Glasgow and Edinburgh have been billed as "Scotland's biggest bike ride".
A number of roads in Glasgow were closed to allow thousands of cyclists to ride in a traffic-free environment.
The day was part of the Sky Ride campaign, which aims to get one million more people riding a bike by 2013.
Its organisers joined forces with Pedal for Scotland, which hosted two Glasgow to Edinburgh rides and a family event in Edinburgh.
The Glasgow 10.6km route started at the Riverside Museum and took participants down Anderson Quay and Clyde Street to Glasgow Green, then along Broomielaw and Lancefield Quay back towards to museum.
Hosted by British Cycling and Sky in partnership with Glasgow Life, it aimed to encourage complete beginners, children and lapsed cyclists to get on their bikes.
Affected roads were to be closed to traffic between 5:00 and 19:00.
'Unrivalled festival'
The freshnlo Pedal for Scotland nine-mile (14.5km) family cycle in Edinburgh started in Kirkliston Leisure Centre, and the 47-mile Challenge Ride and 94-mile Sportive route started at Glasgow Green.
All three rides finished at Murrayfield Stadium.
Ahead of the rides, Councillor George Redmond, chairman of Glasgow Life, said: "We are delighted to be bringing these two events together to create what will be an unrivalled festival of cycling in Scotland.
"Together they give thousands of people from across the country the opportunity to take part in what will genuinely be Scotland's biggest bike ride.
"From traffic-free streets in Glasgow to the truly unique challenge of cycling between Scotland's two main cities, it promises to be a day that will be enjoyed by cyclists of all ages and abilities."