Glasgow night walkers shine for cancer charity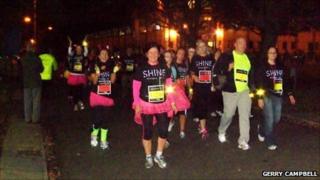 About 3,000 people took to the streets of Glasgow armed with glow sticks to join Scotland's first ever Shine walk.
Participants could choose to do a full marathon or a half marathon on Saturday night to raise money for Cancer Research UK.
Some of the city's landmarks, including the People's Palace and the Glasgow University tower, were lit up.
Many of the walkers were cancer survivors or taking part in memory of a loved one.
Unlike some other fundraising events, participants, who were aged 13 or over, were able to choose what area of research they wanted their sponsorship to support, choosing from 12 different types of cancer, including breast cancer, lung cancer, and leukaemia.
They could alternatively give their backing to Cancer Research UK's overall work.
Joff Charters, Cancer Research UK Shine event manager, said: "Glasgow Shine was a fantastic event and we want to say a heart-felt thanks to everyone who took part or supported our participants, as well as the wonderful volunteers who helped make it happen.
"Around three people an hour are diagnosed with cancer in Scotland. We hope to raise as much as £1m to help beat the disease.
"Now the big day is over, we are asking our supporters to take one last step - by returning the money they have raised so that we can go on funding much-needed research."
Craig Carson was one of three cancer survivors to start the event, setting thousands of walkers on their way before walking the 26.2 miles with his friend, Murray Foulds.
The 29-year-old, from Cathcart, south Glasgow, was diagnosed with testicular cancer in February and was successfully treated with surgery and chemotherapy treatment.
The primary school teacher, who teaches at West Primary School in Paisley, said: "Taking part in the Shine event here in Glasgow was an amazing experience.
"Just a few months ago I was undergoing treatment for cancer and now here I am walking 26 miles and helping raise money to fund the pioneering work of Cancer Research UK."
Mother of two and cervical cancer survivor Lyndsey Hart, 44, from Cambuslang, Glasgow, also took part in the walk.
She was diagnosed with cervical cancer in 2007 just before her 40th birthday and following treatment has made a good recovery.
"I was devastated when I was diagnosed with cancer. But thanks to research, I am here today," she said.
"As well as my own experience of cancer I also have several friends currently going through treatment, and, like many others, have sadly lost close friends to the disease.
"Taking part in Shine was an opportunity to do my bit in the fight against this dreadful disease."
Every year, almost 29,000 people in Scotland are diagnosed with cancer. Last year, Cancer Research UK was able to invest almost £34m on some of the UK's leading scientific and clinical research.