HMRC officers seize £250K of illegal 'export' alcohol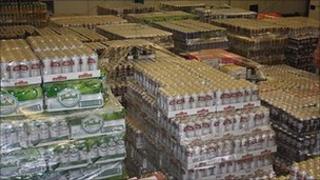 A man has been charged after illegal alcohol worth more than £250,000 was seized at various locations in Glasgow.
Officers from HM Revenue and Customs (HMRC) confiscated 81 pallets of beers, wines and spirits during the raids on 7 and 8 September.
It is believed the alcohol was intended for export but had been diverted back to avoid paying duty.
HMRC also said it had dismantled an illegal relabelling factory during the raids last week.
Investigations continuing
Two men were detained during the operation, which focused a container storage yard, an off-licence and a private address.
One of the men was subsequently charged with an offence under the Customs and Excise Management Act 1979. He will be reported to the procurator fiscal.
HMRC's assistant director for criminal investigation John Fitzcharles said: "I am unable to give further details at this time as our investigations are continuing.
"However, these activities send a clear message to those tempted to become involved in crimes of this nature - we take alcohol fraud extremely seriously and will pursue anyone believed to be involved in this type of crime."