Motherwell Orange Order funeral march breaks ban order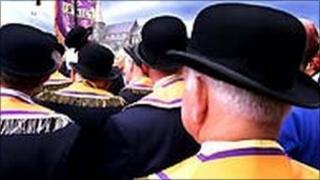 The organisers of an Orange Order funeral march in Motherwell could face court action after staging the event in violation of a council banning order.
North Lanarkshire Council rejected an application for marchers to walk thorough the town on Monday after police raised concerns over safety.
Several hundred people ignored the ban and took part in the event.
Strathclyde Police said a report would be sent to the procurator fiscal over the violation of the prohibition order.
Motherwell Orange and Purple District 25 sought permission to stage the march following the death of one of its members.
'Dangerous precedent'
Its application was rejected by the council following police concerns over potential disruption caused by the parade.
Henry Dunbar, Grand Master of the Grand Orange Lodge of Scotland, said the decision was "bizarre and a bit ridiculous".
He claimed the Strathclyde force had set "a very dangerous precedent" by saying it could not police a funeral.
A spokeswoman for North Lanarkshire Council confirmed the march had gone ahead in violation of a prohibition order and was attended by "a couple of hundred people".
She added: "This is now a matter for Strathclyde Police."
A spokeswoman for the force said: "Notification of this procession was made late last week.
"On Friday, North Lanarkshire council public processions sub committee convened and following observations by Strathclyde Police made an order prohibiting the holding of the procession.
"The procession took place on Monday in violation of that prohibition order, and as a result, a report will now be submitted to the procurator fiscal."