Glasgow School of Art sets UK fees at £27,000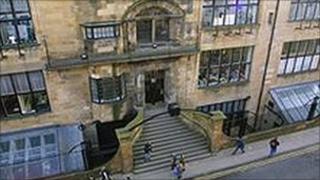 Glasgow School of Art has confirmed it will charge UK students from outside Scotland £27,000 for degree courses.
The institute will charge £6,750 per year for four-year art and design degree courses from 2012/13.
Students studying for a degree in architecture and art and design students who enter directly into the second will pay £9,000 per year.
It is the fifth Scottish university to set fees for rest of UK (RUK) residents at up to the maximum level.
A school spokesman said: "The changes in tuition fee policy in England have necessitated the introduction in Scotland of fees for RUK students in order to safeguard places for Scottish students and it is in that context that GSA has taken its decision.
"In setting our RUK fee the school has striven to find fairness and equity in what is neither a particularly helpful policy for small specialist institutions delivering high-cost subjects nor one which sits easily with our core values of access based on talent, potential and ability, not ability to pay."
'Careful consideration'
The institute said it would offer new bursaries for RUK students from lower income backgrounds.
Professor Seona Reid, director of Glasgow School of Art, said: "The GSA has set its proposed RUK fees after very careful consideration."
The school had set the fee structure to ensure it did not have the "unintended consequence of reducing the income available to GSA from 2012".
Robin Parker, NUS Scotland president, said: ''It's disappointing news that yet another university in Scotland will make English, Welsh and Northern Irish students pay £27,000 for a degree.
''Tuition fees put off the poorest students and make university more about your bank balance than your ability.
"The race to the top in terms of setting fees for students from the rest of the UK, started last December by the Westminster government, is showing no sign of slowing, as Glasgow School of Art demonstrates that it's the price tag, not the quality of the education which it should be judged by."