Susan Marshall: Public stopped in missing woman probe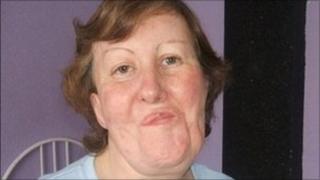 Police investigating the disappearance of a vulnerable missing woman plan to stop and question motorists and pedestrians in Renfrew on Wednesday.
Susan Marshall, 55, from Cardonald, Glasgow, was last seen by family at her sister's home in Penilee on 31 August.
She was later spotted on King's Inch Road, near Xscape, Renfrew.
Two weeks on from her disappearance, police will be interviewing pedestrians and motorists in Kings Inch Road between 11:00 and 12:00.
Ms Marshall, who has learning difficulties, is described as white, 4ft 10in (1.47m) tall, of slim build, with green eyes, rosy cheeks and dyed brown collar-length hair.
She also has a hearing implant and was wearing a royal blue jacket, blue denim trousers and white trainers on 31 August.
She was last seen at her family home at 10:00 on 31 August.
Police inquiries have established a further sighting in the car park at Marks and Spencer, outside Braehead Shopping Centre, at 11:15.
It is thought Ms Marshall may have been making her way towards Xscape.
The last known sighting, on King's Inch Road, was at 11:29.
Motorists and pedestrians will be stopped there on Wednesday and asked to complete a short questionnaire in a bid to gather more information about Ms Marshall's disappearance.
Safety concerns
Insp Stuart Mundell, of Strathclyde Police, said: "We would ask everyone to cast their minds back to that Wednesday, 31 August - were they near Braehead? Did they see a woman of Susan's description near to Kings Inch Road, just near Xscape?
"Susan has never been missing before and we're all becoming increasingly concerned for her safety and well-being.
"Her family are distraught and just want to know that she is safe and well. We would ask members of the public to lend their support and fully co-operate with officers during tomorrow's operation."
Insp Mundell said Ms Marshall's family describe her as "a creature of habit".
He added: "She has learning difficulties and likes to stick to the same routine. Every weekday she walks from her home in Chirnside Place, Cardonald, along Berryknowes Road to Aboukir Street where she attends a club.
"She also walks from her home to her sister's house in Bowfield Crescent along Hillington Road South and Bowfield Drive. Susan also uses the shops in Paisley Road West between Cardonald and Penilee, especially Morrisons."