Barry and Jacqueline Hughes fraud trial adjourned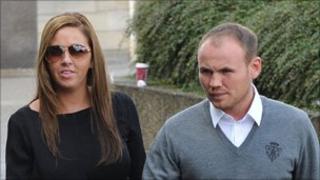 Boxing promoter Barry Hughes and his wife Jacqueline have had their mortgage fraud trial adjourned until next year.
Mr Hughes, 32, and his wife, 35, from Renfrewshire, deny lying about income on mortgage applications.
They also deny several charges under the Proceeds of Crime Act of profiting from the sale of the properties.
At Glasgow Sheriff Court, the trial was adjourned until February so the defence could examine more than 10,000 documents to be used in the case.
Advocate Mark Moir, defending Mr Hughes, made the motion to adjourn during the procedural hearing on Wednesday.
Fair trial claim
Sheriff John Beckett said: "I am satisfied it is in the interest of justice to adjourn the trial."
Mrs Hughes' defence QC Derek Ogg argued that his client will not have a fair trial following media coverage.
The court was told a hearing will take place in December to debate if the case will proceed to trial.
The couple are alleged to have lied about Mrs Hughes' earnings in several mortgage applications for amounts totalling almost £1.5m.
They are also accused of profiting from the sale of properties in Brookfield and Bridge of Weir.
Mr Hughes also faces charges of paying £81,000 towards a car and buying a £30,202 watch using some of the alleged illegal profits.
His wife faces a further charged of gaining £25,000 from renting out a property in Kilmacolm.