Missing Ayrshire sex offender William Cunningham jailed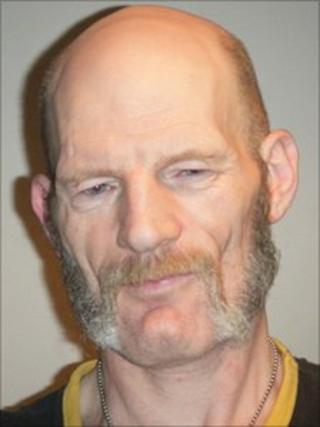 A missing sex offender who was traced to a small Scottish island owned by Tibetan monks has been jailed for two years and four months.
William Cunningham, 45, from Newmilns, East Ayrshire, failed to attend court on 23 May after breaching an order preventing contact with young people.
Kilmarnock Sheriff Court heard he was later traced to Holy Isle, inside the bay of Lamlash, on the Isle of Arran.
Sheriff Alistair Watson told Cunningham he was "a dangerous individual".
The court heard how Cunningham was "well aware" of the terms and conditions of his Sexual Offences Prevention Order.
On 25 April he bought a motorbike from a man whose 11-year-old daughter was present when the transaction took place.
Cunningham falsely told the man he was new to the area and his mother had just died.
Barbecue invite
The owner of the motorbike and his partner invited him to a barbecue that evening where the couple's two-year-old boy was present.
Despite being in the company of the children, Cunningham made no attempt to leave.
Police later visited his home the following month and he was "obstructive" and "unwilling" to say how he obtained the motorbike.
On 14 May, Cunningham turned up at a guest house on Holy Isle, claiming his name was Billy Scott and he had no money.
Police armed with an arrest warrant broke into his flat on 23 May after he failed to appear at Kilmarnock Sheriff Court.
An appeal for help in tracing Cunningham was circulated in the media, and he was arrested on Holy Isle four days later after a resident had recognised him.
Jailing Cunningham, Sheriff Alistair Watson told him: "This was a flagrant breach of an order designed to protect the public and children in particular.
"It's clear you are a dangerous individual who poses a significant degree of harm to others."
In 2007, Cunningham was jailed for four years and nine months for attempted murder.
He also served four years for lewd and libidinous behaviour.
His 33 prior convictions include indecent assault and child cruelty.
Cunningham was considered such a risk to children that police were granted the Sexual Offences Prevention Order in May 2010.