'Business as usual' says Rangers chief Craig Whyte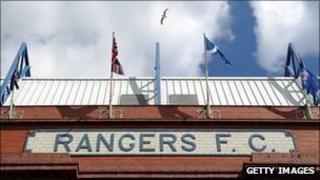 Rangers chairman Craig Whyte has denied that the club is on the brink of insolvency, declaring that it is "business as usual".
His statement follows the news that Rangers' former chief executive Martin Bain has had almost half a million pounds of the club's assets frozen.
This was after a judge agreed there was "real and substantial risk of insolvency".
Mr Whyte said the club had a good chance of succeeding in a tax tribunal.
Mr Bain is pursuing a £1.3m damages claim against his former employer at the Court of Session in Edinburgh.
Judge Lord Hodge granted a warrant which would ring-fence £480,000 of the Ibrox club's assets.
He said there was risk of insolvency if the HMRC tax case goes against Rangers.
The club faces two tax claims and the larger could leave them with a bill of £49m - £35m in tax, plus £14m in interest and penalties.
Mr Bain raised his damages claim alleging breach of contract following the takeover at Rangers FC by venture capitalist Craig Whyte from former owner Sir David Murray.
In his statement, posted on the Rangers website, Mr Whyte said: "The board would like to make it absolutely clear that, at Ibrox, it is business as usual. The club is trading normally and has a strong balance sheet.
"The board finds it reprehensible that the law courts have been used in recent days to suggest the club is on the brink of insolvency. It is not.
"At this point the club's advice from tax advisors has been that the club has a good chance of succeeding in the tribunal but it would be wholly irresponsible not to consider the potential consequences for the club should the decision be made against us," he added.
"No-one can say with 100% certainty at this stage what the outcome will be - that is why there is a tribunal. I can say categorically that we will be fighting the club's case most vigorously."
'Challenging times'
The chairman also said the potential liability from HMRC, came to the fore "on the watch of the previous regime".
He added: "Rangers FC faces challenging times ahead - as do many football clubs.
"The current costs of the club against existing and potential revenue streams make it imperative the club operates within its means.
"There can be very few businesses today that are not taking this outlook on life.
"This club has a great history and a great future - but we will have to work hard to achieve it."