Halle Berry in Glasgow to film Cloud Atlas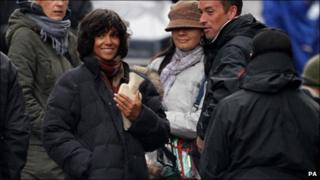 Oscar-winning actress Halle Berry has arrived in Glasgow to film Cloud Atlas - the second Hollywood production to be shot in the city this year.
Filming takes place in city centre locations south of Blythswood Square and around Montrose Street from 16 to 18 September and on 26 September.
The film is based on David Mitchell's award-winning 2004 novel.
Its six related stories span from the 19th Century to a near dystopian and eventual post apocalyptic future.
Vintage cars
During filming on Friday, Berry was seen clutching a hot water bottle to keep her hands warm.
She wore blue jeans, a beige jacket and scarf. But, after "cut" was shouted on set in Douglas Street, the actress donned a long black overcoat.
Vintage American cars, including a Lincoln Continental Mark IV and a Packard Clipper Custom, were also parked in the street, with Revere Avenue and Kirkwood Avenue signs erected on the set.
The decision to bring Cloud Atlas to the city was taken after its production team met with Glasgow City Council Film Office.
Jennifer Reynolds, a film commissioner at the office, said: "It's a German production and they had been scouting areas in the UK because some of the script is set in the UK.
"So they were looking at areas in Scotland - I think Edinburgh and Glasgow - but one thing Glasgow had that worked for them was the geography of Glasgow - quite a few steep hills - and it could replicate San Francisco in the United States.
"So we managed to secure about three days' filming for a section of the book that is 1970s San Francisco. Another part of the story is set in modern-day London and we are also filming another day or two of that as well."
She added: "It is quite a substantial film so it's obviously going to bring a good economic benefit to the city and there's local crew being hired and used on it and local companies and their services as well as hotels and restaurants.
Cloud Atlas, which is due for release next year, is based on British author David Mitchell's best-selling 2004 novel, which was shortlisted for the Man Booker Prize.
The unconventionally-structured novel of interlinking narratives charts the story of one soul across the centuries.
It also features Oscar winners Tom Hanks and Susan Sarandon and British actors Jim Broadbent, Jim Sturgess and The Hour's Ben Whishaw.
A number of partial and full road closures will be in place in Glasgow during filming.
Details of these are available on Glasgow City Council's website.
During August, the Brad Pitt Zombie film World War Z spent 17 days shooting scenes in George Square and surrounding streets, which were transformed to resemble Philadelphia.
The city has also hosted Peter Mullan's film Neds, Perfect Sense with Ewan McGregor and Eva Green, and The Decoy Bride starring David Tennant.