Alister Currie admits stabbing wife and step-daughter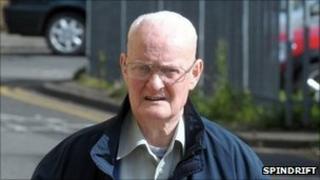 A 74-year-old man who stabbed his wife and step-daughter after wrongly believing he was being poisoned has been jailed for four-and-a-half years.
Alister Currie admitted attacking 71 year-old Myra Currie and her daughter Karen Docherty, 49, at the couple's home in Dumbarton in December 2009.
The High Court in Glasgow heard how Currie had a strained relationship with both women for several years.
His lawyer said he felt "profound regret" for what he had done.
Currie was originally charged with the attempted murder of Ms Docherty but later admitted to assaulting her to the danger of her life and assaulting Mrs Currie to her permanent disfigurement.
'Difficult' relationship
At an earlier hearing, the court was told how Mrs Currie had sought legal advice about a divorce in 2004. The couple reconciled but the marriage remained strained.
The relationship between Currie and Ms Docherty was also "difficult" to the extent she would not visit her mother and step-father's home for years at a time.
Prosecutor Pino di Emidio said: "It is understood the accused believed there was a vendetta against him by the women and the extended family."
He added: "The GP records of the accused disclose that in about August 2008, he thought that his wife was poisoning him.
"There was no objective evidence to suggest that she was doing anything of the kind."
On 6 December 2009 - the day before the attacks - Ms Docherty contacted police on behalf of her mother to seek advice on how to report "emotional domestic abuse".
Daughter's screams
The next morning, she visited her mother - who was recovering from surgery - for lunch.
The court heard Currie later appeared in the dining room armed with an eight-inch craft knife and lunged at Ms Docherty, seizing hold of her and striking her on the head and body.
Mrs Currie heard her daughter's screams and tried to get her husband to stop. She dialled 999 and raced out to a neighbour's for help.
A blood-soaked Ms Docherty scrambled free into the garden before Currie turned on his wife after she returned to the house.
He struck her on the neck before she managed to escape.