Raymond Don and Stephen Owens jailed for brutal attack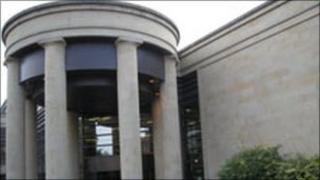 Two men who left a stranger brain damaged following an unprovoked attack at a taxi rank in Dumbarton have been jailed for a total of 13 years.
Raymond Don and Stephen Owens, both 25, attacked 36-year-old Francis Hollern in the town's Riverside Lane in April.
Don then stole the victim's mobile phone and called Mr Hollern's father to "thank his son" for the handset.
At the High Court in Glasgow, Don was jailed for nine years and Owens was sentenced to four-and-a-half years.
Don and Owens, both from Dumbarton, appeared at the court to face an attempted murder allegation.
Previous convictions
Don instead pleaded guilty to assaulting Mr Hollern to the danger of life and robbing him.
Owens admitted to a lesser charge of attacking the father-of-two to his severe injury.
It emerged that both were on licence at the time of the attack having been released early from previous jail terms.
Don had been locked up for almost six years in 2006 after a knife attack on a stranger.
The court heard that Mr Hollern had been at a bar with relatives on 21 April and had later gone home as it was his young daughter's birthday the next day.
He was standing at a taxi rank when Don and Owens started chatting with two people nearby.
Prosecutor Keith Stewart QC said that "without warning" Mr Hollern was then attacked, causing him to fall to the ground.
Don kicked and stamped on him, while Owens also kicked him.
Brain injury
Don then rifled through the victim's pockets and stole his mobile before the pair fled the scene.
The court was told that Don used the phone to call Mr Hollern's dad to "thank his son" for the handset.
He also boasted that he had just "done" Mr Hollern.
Mr Hollern was rushed to hospital where it was discovered he had a significant brain injury as a result of the attack.
The court was told he was later sent to a rehabilitation unit, but has yet to make a full recovery.
Describing their attack as "nasty and vicious", temporary judge Norman Ritchie QC told Don and Owen: "This has had devastating consequences on Francis Hollern's life - quite possibly for the rest of his days."