Elish Angiolini to teach law at Strathclyde University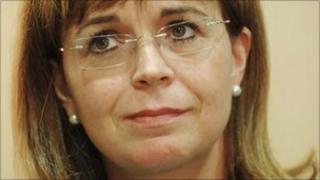 Former Lord Advocate Dame Elish Angiolini has been appointed as a visiting professor at the University of Strathclyde.
The former top law officer will develop a masters course in advocacy studies, which is due to be launched next year.
Dame Elish, who graduated from Strathclyde Law School in 1982, said she was delighted to be "returning to her roots."
She will take up her post at the institution's law school on 1 October.
She said: "The opportunity to teach and support students here is very special given the wonderful teaching I experienced here 32 years ago.
"Strathclyde Law School is recognised as one of the best in the country, and the cutting edge nature of the research and teaching it is involved in ensures that the graduates it produces are highly sought after.
"I am delighted to be able to play my part in its continued success."
Dame Elish will also be involved in teaching undergraduate students and will have input into the law school's law clinic.
The university said the masters in advocacy is the first course of its kind in the UK.
Students will examine aspects of the discipline from forensic advocacy in criminal and civil law, as well as the fundamentals of persuasion and negotiation.
Dame Elish added: "Advocacy is a core skill for many professionals and this masters course will take a holistic approach to its study.
"It has the scope to be an inter-disciplinary course as much of the theory and many of the techniques are as applicable in the business world and boardrooms as in the courts."
Dame Elish was Lord Advocate between October 2006 and May this year, the first woman to hold the post in 500 years and the first to serve two different governments.
Professor Jim McDonald, principal of the University of Strathclyde, said: "I am delighted that the university has been able to attract one of its most outstanding and high profile alumni to return to make a significant contribution to legal education within the law school.
"Her experience will bring a new dimension to legal education at Strathclyde."