Stolen ambulance found burnt out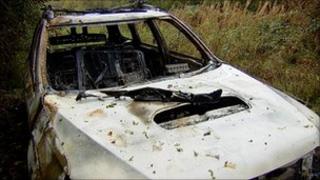 A 35-year-old man has been arrested over the theft of a specialist support vehicle which allows medics to attend sick children across Scotland.
The Subaru Forester 4x4 was taken from outside an on-call medic's home in Renfrewshire at the weekend.
A spokeswoman for Strathclyde Police said the vehicle had been found at a waste ground site in the Ferguslie Park area of Paisley.
She said it had been "completely burnt out" and was "totally wrecked".
The keys to the vehicle were thought to have been taken during a break-in at house in Thompson Avenue in Johnstone, sometime between Sunday night and Monday morning.
Police said a 35-year-old man was being being held in connection with an alleged theft by house-breaking.
He is due to appear at Paisley Sheriff Court on Wednesday.
Quick response
The specialist vehicle was used to allow medics to attend to young people before they are taken by ambulance to intensive care units in Glasgow and Edinburgh.
The vehicle was recently donated by the Yorkhill Children's Foundation.
It said the vehicle was often used when the paediatric ambulance was already in use or was not fast enough.
Intensive care staff also used the car to respond to emergencies from home when on call.
Shona Cardle, chief executive of Yorkhill Children's Foundation, said: "The theft of this life-saving response vehicle is not just a car theft.
"This is a vital life-saving vehicle which is used to ensure the quick response needed to save the lives of sick children and babies from all over Scotland."