Regulator criticises Scottish Water for aluminium level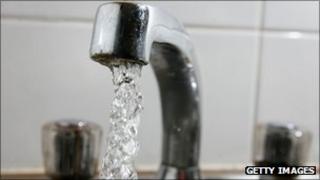 Scottish Water has been widely criticised over failures which led to high aluminium levels affecting supplies to 12,000 homes near Glasgow.
The Drinking Water Quality Regulator said the incident in March at Burncrooks Water Treatment Works, near Bearsden, had been badly handled.
It has made 17 recommendations for future improvements.
Scottish Water said it had taken action since the incident affected homes in Strathblane, Bearsden and Milngavie.
Householders in these areas were advised not to use tap water for drinking or cooking from 18-19 March.
Scottish Water issued the advice after high levels of aluminium affected supplies from the Burncrooks facility, in the Kilpatrick Hills, West Dunbartonshire, overnight on 17 March.
Notification delays
Water leaving the treatment works contained significantly higher aluminium concentrations than usual, over 20 times the legal standard.
A subsequent investigation by the water regulator criticised Scottish Water over a number of operational failures.
These included a failure by the utility "to spot the potential for the incident to occur and use appropriate technical expertise to respond quickly and reduce its impact".
It also said there were "delays in notifying the affected consumers of the restrictions".
Scottish Water was also criticised for "a lack of capability for making accurate measurements of aluminium concentrations at the treatment works and in the distribution system".
The regulator also noted "deficiencies in the validity of scientific evidence used to request a lifting of the restrictions" and a "lack of rigour in a number of aspects of the management of the incident".
A spokesman for the regulator said: "This incident is extremely disappointing and should not have been allowed to occur.
"Although it is likely that any risk to health was minimal, a large number of people were greatly inconvenienced by the restrictions on water use that were put in place.
'No overdose'
"We know Scottish Water can do much better than this and we are now looking to the company to make sure that it does whatever is necessary to prevent a repeat of this incident here or anywhere else in Scotland. We will be watching very closely to ensure this happens."
Aluminium sulphate is used in many water treatment works across Scotland to "clarify the water".
The regulator's investigation found there "was no overdose of chemical involved".
Instead, it said "higher aluminium concentrations occurred when Scottish Water allowed the pH of the water to fall significantly, dissolving any solid aluminium accumulations throughout the treatment system".
This meant that aluminium concentrations in water supplied to customers "were considerably higher than the regulatory standard".
Its report concluded, however, that it was "unlikely that these represented a significant risk to public health over the duration they were experienced".
Margaret McGuinness, Scottish Water's public health manager, said: "Scottish Water apologises for the inconvenience caused to customers by the incident.
"We take our responsibility to provide high quality drinking water to our customers very seriously and, across Scotland, drinking water quality has never been higher, with 99.86% of samples in 2010-11 having met strict standards.
"Water quality incidents are rare but Scottish Water is committed to learning from the incident at Burncrooks.
"We carried out our own investigation into the incident and this identified a number of actions, including the installation and/or replacement of monitoring equipment. These actions have been completed.
"We will study the DWQR's report and recommendations and will do everything possible to reduce the risk of a similar event occurring at Burncrooks or elsewhere."
Burncrooks Water Treatment Works supplies about 50,000 people in East and West Dunbartonshire and Stirling.
It was upgraded in 2009 in a £2.6m project to improve the security of water supplies.