Cycle role for Glasgow's bridge to nowhere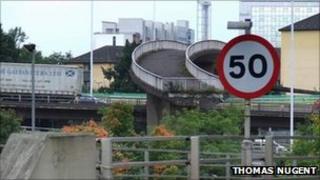 One of Glasgow's most notorious landmarks is to be given a new lease of life as part of a scheme to boost cycling and pedestrian travel.
The so-called "bridge to nowhere" - a pedestrian link over the M8 motorway at Anderston - has never been used and has no access ramps.
It will be completed to create a link from Kelvingrove Park in the west end to the city centre.
The project is being led by Glasgow City Council and the charity Sustrans.
The incomplete footbridge was originally planned as the main pedestrian connection between Glasgow city centre and the Anderston district.
Key destinations
When planned developments never materialised, the bridge ended about 40ft (12.2m) in the air, to the rear of the Hilton Hotel.
The completion of the bridge is part of wider plans to improve cycling across the city.
A new on-road segregated two-way cycle way was opened in the east end of Glasgow on Tuesday.
New cycle routes are also being planned to link Glasgow Green with a number of key destinations in the east end including Commonwealth Games venues.
Glasgow City Councillor Matt Kerr said: "The council recognises that cycling has an import role to play in contributing to the health and well being of those who live, work and visit the city and therefore something which we should invest in.
"These new routes are just one of a number of projects that the council is working on, including connecting Kelvingrove Park to the city centre through completing the 'bridge to nowhere' in Anderston, and of course, building the new mountain bike track at Cathkin Braes, in time for the 2014 Glasgow Commonwealth Games.
"Providing a safe environment through segregated cycle lanes and improving signage, lighting for cyclists will hopefully encourage more people to get on their bikes and experience the city on two wheels."