'Ant and Dec' bearded dragons abandoned in Glasgow park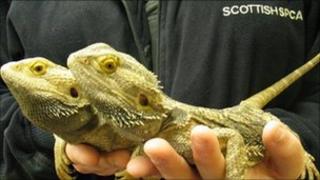 An animal charity is appealing for help in tracing the owner of two bearded dragons which were abandoned in a Glasgow park.
The Scottish SPCA said the lizards were found in poor condition on land near Yorkhill Hospital on Tuesday.
The dragons are now being cared for at its Animal Rescue and Rehoming Centre at Cardonald, where staff have named them Ant and Dec.
The charity said whoever dumped the lizards was "irresponsible and cruel"
Scottish SPCA ambulance driver Jean MacKay said: "I arrived at the park to find two bearded dragons in a secluded corner. They were absolutely freezing cold and very thin.
'Very lucky'
"An elderly lady had spotted one of the dragons on Monday afternoon.
"When she returned early on Tuesday morning it was still there and had been joined by another and that's when she called us.
"It's very lucky that this lady found Ant and Dec when she did as they would not have survived outdoors for much longer. Exotic creatures like bearded dragons require warm conditions to regulate their body temperature.
"It's very irresponsible and cruel to dump your pets outside when you no longer want to look after them and we're keen to speak to anyone who might know who did this."
Anyone with information about the dragons is asked to call the Scottish SPCA animal helpline.