Three members of Lanarkshire family treated for TB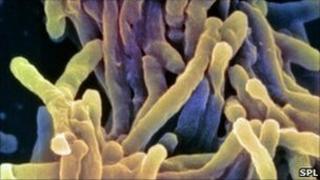 Three members of a Lanarkshire family are being treated for tuberculosis (TB), health officials have said.
Screening is taking place at a nursery in Blantyre where one of the patients worked and at a hospital where one of the others was treated as an inpatient.
NHS Lanarkshire said everyone who had been in close contact with the cases was being contacted and "appropriate health measures" were being taken.
All three patients were said to be "well and responding to treatment".
Dr Josephine Pravinkumar, consultant in public health medicine, said: "Tuberculosis is a relatively uncommon infection in Scotland. It can be successfully treated with antibiotics, however, if not identified and treated it can be serious.
'Precautionary measure'
"The risk of transfer of this infection to people who have been in contact with a case is low and the risk of people developing active TB disease is even lower.
"It is not easily passed from person to person, and even prolonged contact does not necessarily mean the infection would be contracted.
"However, in line with Scottish guidance we are offering screening for close contacts as a precautionary measure.
"We are contacting all people who have had close contact with the cases of TB and are ensuring that all appropriate public health measures are taken."