Hilton Hotel in Glasgow sold for almost £36m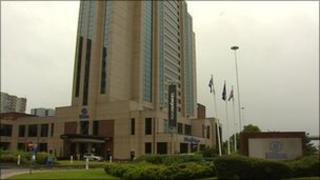 One of Glasgow's most exclusive hotels has been sold for almost £36m.
The five-star Hilton Hotel, which is in the city's Anderston area next to the Kingston Bridge, was sold by the Royal Bank of Scotland.
The 20-storey hotel is now part of the Topland Group of property investment companies, based in Gibraltar.
This is the last of 11 Hilton hotels sold by Royal Bank of Scotland as it continues to focus on its core business.