Sharkey fire murders: Police in new CCTV image appeal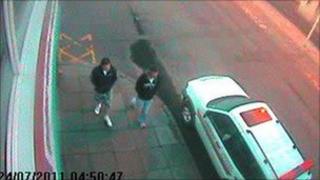 Police investigating the murders of three family members in a deliberate house fire in Helensburgh have released a CCTV image of men they want to trace.
The development came after detectives said they had an "encouraging" response to an appeal for information on the BBC's Crimewatch programme on Thursday.
Thomas Sharkey, 21, and his eight-year-old sister Bridget died following the blaze at their home on 24 July.
Their father Thomas, 55, died six days later in hospital.
The only survivor of the fire was his 46-year-old wife Angela Sharkey.
The fire in the Sharkey's family home in Helensburgh's Scott Court broke out at about 05:00 on 24 July.
Police said they received more than 20 calls during and after the Crimewatch programme on Thursday night.
Witness descriptions
Detectives said they were still trying to trace a man in a grey hooded top who was seen walking north in John Street, crossing West Princes Street about 05:00 hours on 24 July.
They have released a CCTV image of a further two men, seen in East King Street, who have still to be traced.
The image shows the men walking together in East King Street towards Sinclair Street at about 04:50 on 24 July.
They are described as white males. One had dark hair and was wearing a black long-sleeved top and knee-length shorts, possibly green, with white shoes or training shoes.
The second man had short dark hair and was wearing a black long-sleeved top, light blue jeans and light coloured shoes.
Police believe these people are "key witnesses" and could have information that is vital to this investigation.
Det Sup Peter McPike said: "This tragedy has left Angela Sharkey devastated and a community shocked.
'Horrific crime'
"I'm pleased with the response we received from viewers last night and hope that this brings us a step closer to identifying whoever is responsible for this horrific crime.
"The information we have received so far has been encouraging and we will actively pursue these lines of inquiry.
"I would still urge anyone who has yet to contact us to please get in touch immediately - regardless of how insignificant or trivial their information may be."
Earlier, it emerged that police were given four names during the Crimewatch appeal.
Another person called anonymously to say they say saw a man running away from near the Sharkeys' flat at around the same time the fire was started.
The programme, which aired on Thursday night, included a reconstruction of the night of the blaze and interviews with family members.
Mrs Sharkey, who was not well enough to be told of her family's deaths until almost two weeks after the blaze, made an emotional plea to viewers to come forward with any information, in a bid to help police catch the killer.
She said: "I have no idea why anyone would want to do this to me and my family. It's just so unfair that they're gone.
"It's still sinking in, obviously. But I've got to face it. It'll be made easier if I have a reason or somebody can explain to me why they felt the need to go this far."
She also recalled the moment when her sister told her of her family's deaths, saying: "I thought 'it can't be true, I don't believe it', but I did believe it, by their faces. Then it just went downhill from there on in really."